TSI loves solving complicated shipping projects. Bring us your large, expensive, or wacky items, and we'll get them where they need to go. 
Meet Tobey, a 1,400-pound solid bronze bear statue—one of only eight in existence, worth approximately $70,000. A collector in Blue Bell, Pennsylvania named Tom B. purchased the statue years ago and showcased the bear in a room custom-created for its display.
A philanthropist and education enthusiast, Tom decided to donate Tobey the Bear to a charter school in Cashiers, NC in November 2018. Unsure of how to get Tobey to his new home, Tom contacted TSI to manage the relocation and logistics of this long distance move. But there was a catch—Tom needed to get the statue out in just 4 days. Gauntlet thrown, we went to work.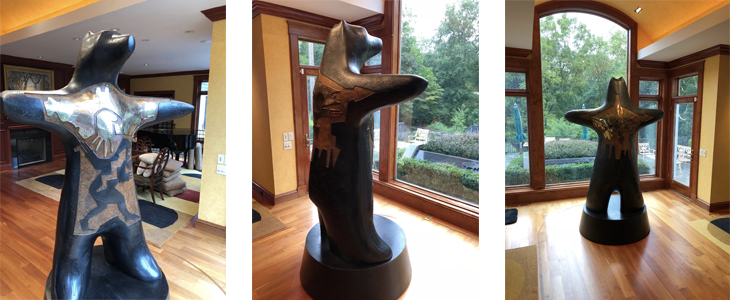 The Details
Description of cargo: 8 ft half-ton bronze bear statue and base
Weight: 1,414 pounds
Dimensions: 97" H x 48"W x 67"L
Value: $70,500
Origin: Blue Bell, Pennsylvania
Pickup date: October 10, 2018
Destination: Cashiers, North Carolina
Delivery date: October 16, 2018
Miles traveled: 713
Size of moving crew: 5 certified movers & 1 professional driver
Challenge 1: Quick pickup
Tom had photographers scheduled to come to his home 4 days later and needed the statue off his property before their appointment. 
Solution: Our nationwide network of experienced local carriers
We alerted one of our local carriers, MSS, right away and ensured they had the correct team, truck, and tools to get the statue safely off the premises and to their warehouse. They showed up a day before the photographer's appointment and completed everything that day. We checked in with the team daily and mitigated potential problems, including strict deadlines and challenging logistics, before they happened. 
Challenge 2: Too-small door frame
The base of the statue was too large to fit through the door frame.
Solution: Dismantle Tobey
The floors and walls were covered in protective sheeting to ensure there would be no damage to the space when removing the statue. Once ready, our 5-person moving team removed the bear from its base and carried the two pieces out separately, tilting the base to the side to get it through the door frame. 
Challenge 3: Odd shape and hefty weight
The statue was irregularly shaped and considerably heavy, so Tobey needed a specially-made crate to ensure he would be safe during transit. 
Solution: Build a custom crate
Our carrier strapped the statue to the moving truck for the one-mile journey to their warehouse. Once at the warehouse, the bear and base were reattached and a crate was built around the entire statue, then placed on an air-ride suspension truck for the ride to Tobey's new home.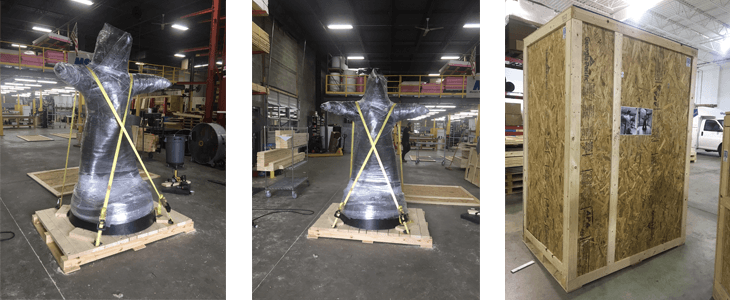 Challenge 4: Strict drop-off deadline 
The statue needed to arrive at the charter school before Tom, who was scheduled to present the bear to the school during a special ceremony. 
Solution: Communicate constantly and arrive early
We were in constant communication with our driver throughout Tobey's journey. He stayed on route as planned and left with ample extra time to arrive at the school. The statue arrived a day early and the crate was removed from the truck by forklift. Tom was updated on the shipment's progress every day. 
Problem solved
Tobey arrived safe and sound and the school has been enjoying his company ever since. 
I'm certainly impressed by the coordination of all the events surrounding the removal from our home, intricate packing, and crating. Just getting a 44-inch base through a 35-inch doorway was remarkable. Their guidance was very helpful in coordinating the transportation, packing and insurance aspects. We are happy to say that our bear of 17 years is now resident in a wonderful charter school in the mountains of North Carolina. Our gift to all the little children. Thanks TSI. —Tom B.
Do you have a logistical nightmare you need solved? Let TSI handle your long distance shipping challenges—we have the network, determination, and expertise to get the job done. 
Many of our jobs are not nearly as complex as Tobey, but our robust network of partners specializes in shipping services for pretty much everything. Add our experienced logistics specialists to the mix and you'll see why TSI is your answer for small moves and specialty shipments.