From getting your team on board to creating a new floor plan that satisfies every department's needs, relocating your office can be a logistical nightmare. Beyond the organizational challenges, there are also physical demands to consider. How will you continue to do business during the moving process, and who exactly is going to manage all that packing and unloading?
The key to successfully moving your office is to plan the process from start to finish, and the best way to do that is to create a detailed project plan that covers all aspects of your move. Not sure how to get started? Follow these steps:
1. Embrace a project plan.
Most office moves are planned six months in advance, while large commercial moves can take up to two years of planning, so as soon as you decide to relocate your office, start making a detailed project plan. This plan will:
Outline the necessary tasks to complete a successful move.
Specify who is in charge of the relocation.
Identify who is responsible for what tasks.
Set deadlines for when tasks must be completed.
2. Decide who is in charge.
Designate one person to serve as the in-office move coordinator. This person will be in charge of overseeing every aspect of the move, so select someone with exceptional organizational skills, the authority to represent your company, and strong decision-making abilities so they can easily manage all the last-minute decisions that come with moving.
3. Pick a team.
The office moving team will work closely with the in-office move coordinator to see your entire office through the move and make sure nothing gets forgotten. Under the guidance of the in-office move coordinator, this team will be responsible for:
Listing moving tasks
Determining their sequence
Assigning responsibilities
Setting target dates
Your moving team should be comprised of people who are knowledgeable about work flow, the responsibilities of different staff and departments, shared equipment, space requirements, office tech, ergonomics, and security. For office tech, select an employee with the expertise to make sure all computers, hard drives, phones, and other day-to-day technology are appropriately packed.
PRO TIP: Your moving team should meet regularly to ensure your plan stays on schedule. Routinely scheduled meetings, such as a weekly or bi-weekly meeting, increase accountability and help keep your move on the right track.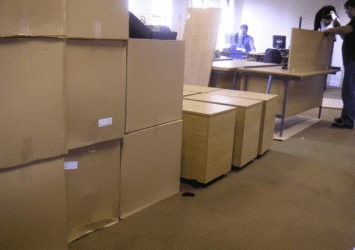 4. Set a timeline.
Find out when your current lease terminates before you start creating a timeline, then select your preferred moving date. After you choose a moving date, you can start ironing out the details, such as how long it will take to build out or renovate your new office.
When you're creating a timeline, make sure you include time for de-cluttering and purging, as well as adequate time to get your tech set up in the new office. Add a buffer to account for any technical difficulties that might slow the process.
PRO TIP: Check with state law to find out how much notice you're legally required to give your employees before you move. Regardless of the legal requirements, you should inform your staff of the move as far in advance as possible, especially for long-distance relocations when you might have to negotiate relocation packages. Then, keep your employees updated throughout the moving process.
Image (right) by Lee Haywood via Flickr.
5. Create a budget.
Your relocation budget will depend on the size of your office, which outside services you choose to hire (such as full service movers or office space planners), and whether you plan to upgrade your equipment and office furniture. You should also factor moving insurance into your relocation budget in case anything gets lost or damaged along the way.
Full service moves, such as TSI's White Glove service, may cost more, but will streamline the moving process by managing all the packing, preparation, and unloading for you. For smaller moves or lower budgets, you can save a little money by packing yourself and helping with the loading and unloading process.
6. Plan your new office.
Your project plan should include a customized relocation plan for your office space, taking into account things like the number of employees, what kind of movers you'll use, and how much equipment you have. Your customized relocation plan should include:
A floor plan for your new space, showing the location of furniture, workspaces, communal spaces, office equipment, etc. This is a great opportunity to identify any issues with your current workspace, such as common bottlenecks or over-used copiers, and create a new floor plan that might resolve these issues. Give a copy of your floor plan to your moving company, IT team, data and wiring contractors, furniture suppliers, electricians and HVAC technicians, and your staff.
An inventory of existing furniture and equipment. This is when you should decide what will move to your new space and what will be replaced.
You may want to consider working with a professional office space planner on the design and build-out of your new space to help streamline the process and ease the transition. Mid-move is not the time to redesign!
7. Talk to movers and other service providers.
Solicit several bids and negotiate with multiple providers to ensure you're getting the best deal for your office. If your business relies on specialty items like medical equipment or you're transporting high-value goods like art, make sure you find a mover or shipping company that specializes in providing these services.
For office relocations that require some or all of your employees to move, working with a moving partner who has the expertise to assist with residential moves and long distance shipping for employees (as well as your commercial move) can simplify the moving process for everyone involved. Plus, offering employees a solution can make the transition less stressful for them.
From relocating your employees to packing moving office furniture and equipment, TSI can help. We have the expertise to help you create a customized shipping solution for your needs, including safely and securely transporting sensitive document and file cabinets to moving an entire office's worth of equipment and furniture
8. Notify your current service providers.
Let your current providers know you're relocating. This includes:
The post office, Fedex, and UPS.
Any subscription services you receive, such as newspapers and magazines.
Relevant government departments.
Telephone and data providers. If you're transferring services, make sure everything is set up and tested before your IT team arrives at your new office to start setting up the network and any in-house servers.
Utilities. Allow for several days overlap between your two locations.
Printing companies (for business cards, promotional mailers, stationery, etc.)
9. Notify your customers and clients.
Let your customers and clients know that you're relocating well in advance of your move so that they know to expect possible delays in service or communications, and explain how and where they can obtain services during the moving process. Here are a few ways to notify your customers:
Send a letter or post card.
Distribute flyers or postcards with customer receipts and invoices.
Send an email, especially if you primarily conduct business online.
Add a notification to your website, such as a banner.
Advise your fans and followers on social media.
Issue a press release.
Host a party and invite your clients and customers to celebrate your new digs once you've settled in.
PRO TIP: If you're moving because of company growth, it doesn't hurt to brag a little!
Office Relocations Done Right
An effective project plan may be the key to keeping your office move organized and on schedule, but without a great team of professional office movers on your side, your perfectly laid out plans can quickly fall to waste. TSI's commercial division will work with you from start to finish to ensure your office move goes smoothly and is completed on time and on budget.