Preparing your home to weather a flood, hurricane, or other natural disasters well ahead of emergency benefits you in a few ways: you'll have a more organized home, as well as peace of mind if you have to evacuate, and there will be less to worry about when you do receive an alert that a storm is coming.
How to prepare for natural disasters in advance
If you have not done so already, the first thing you need to do is determine what type of emergencies you are likely to experience where you live, such as flooding, earthquake, tornado, or wildfire. Use this information to make an emergency plan and prep accordingly Then, you can start taking steps to ensure your home is protected in advance of any emergencies. Here's how to prepare for a flood and other natural disasters:
1. Review your insurance policy
Check that your insurance policy covers damage your home may incur from natural disasters, and purchase any additional insurance you might need. For instance, a lot of insurance providers don't automatically include flood insurance in standard homeowner policies.
2. Install safety devices & alarms
By law, residential homes in most states are required to have at least one smoke detector and carbon monoxide detector on each floor. In addition to these, you may want to pick up some other safety devices and alarms that can help alert you to changes in your home during a natural disaster and mitigate some of the damage:
Fire extinguisher - the National Fire Protection Association (NFPA) recommends one per floor
Water alarm - place in basements and ground floors to be alerted to incoming water, especially if you live in a flood-prone area
Sump pump alarm - placed in your sump pump, this alarm alerts you to higher than normal water levels
Automatic shutoff valves - automatically shuts off your water main when a leak is detected, preventing additional water damage in the event of an earthquake
Check valves - installed in plumbing pipes, these will help keep floodwater from backing up into the drains
To find out what the carbon monoxide and smoke detector laws are in your state, check out this interactive map from Kidde.
3. Secure your home and belongings
During disasters, ordinary items can become dangerous hazards. There are many steps you can take to secure your home and its contents, ranging from the simple and low-cost updates to more expensive investments that may take time to implement. These updates include:
Repairing defective electrical wiring, leaky gas connections, and cracks in foundation or ceilings.
Ensuring all shelves are fastened securely, and large and heavy objects are stored on lower shelves.
Hanging pictures, mirrors and anything framed away from sitting and sleeping areas.
Storing weed killers, pesticides, and other flammable products away from heat sources
Cleaning and repairing chimneys, flue pipes, vent connectors, and any other vents
Keeping your roof, awnings, and gutters clean from debris.
PRO TIP: Digitize or make hard copies and store important documents, photographs, and other cherished memories in water and fireproof containers, so that you don't have to worry about permanently losing them if the original copies get destroyed.
Earthquake preparation
In earthquake zones:
Anchor and brace the following items to studs and joists:

Water heaters
Gas appliances
Bookshelves
China cabinets
Overhead lighting fixtures such as chandeliers

Install durable latches or bolts on cupboards, cabinets, and drawers
Speak to a professional to ensure that your home, porches, decks, sliding glass doors, and garage doors, are all strengthened and securely anchored.
Flood safety
In a floodplain or coastal region at risk for tsunamis:
Elevate and reinforce your home to reduce or limit damage.
Move the furnace, water heater, and electric panel to floors that are less likely to be flooded.
Seal all cracks in basement walls with waterproofing compound.
Wildfire safety
If wildfires are a risk:
Maintain your swimming pool, water feature, pond, cistern, or well, and keep it filled.
Purchase a garden hose long enough to extend to the ends of your property.
Hurricane and tornado safety
If you're located in Tornado Alley, or experience hurricane season:
Remove diseased or damaged limbs from trees.
Keep your yard clear of debris and loose items, and have a designated place to quickly store outdoor furniture, toys, and equipment.
Install storm shutters to cover windows or pick up marine-grade plywood and pre-cut it to fit in your doors and windows.
Reinforce your garage door. According to the Red Cross, "garage doors are often damaged or destroyed by flying debris, allowing strong winds to enter. As winds apply pressure to the walls, the roof can be lifted off, and the rest of the house can easily follow."
Get more tips for protecting your home from wind damage.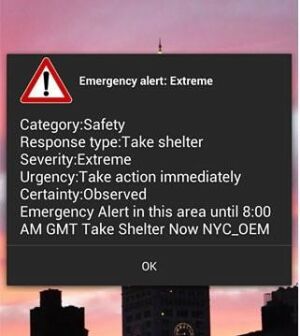 Things to do when you get an emergency alert
Depending on the type of alert you receive and the timeline you are working with, begin taking the final steps to secure your house, and prepare to take shelter at home or evacuate as soon as you receive an emergency alert. Always follow guidelines from the authorities and other official sources.
Turn off gas valves and other utilities in your home only if alerted to do so.
Turn off propane tanks and unplug small appliances.
Fill bathtubs and sinks with water for flushing the toilet and cleaning.
Fill your car's gas tank.
Park your car facing in the direction of your evacuation route.
Locate and secure pets in a safe location where they can be easily collected if you need to evacuate.
In the event of a power outage:
Group food together in the freezer to help it stay cold longer
Put "fresh" items that require refrigeration that you don't need in the freezer, including leftovers, dairy products, and meat
Pack your freezer with ice
Keep a thermometer in your fridge and freezer—it will help you judge if the food is still safe to eat (Fridge should be lower than 40F, freezer below 0F)
Open freezer and fridge doors as infrequently as possible.
Flood preparation
Store dry goods in waterproof containers high enough to avoid contaminated water in a flood
Move furniture and valuables to higher floors of your home, or if there's time, ship them to a safe location.
Create barriers outside your home using sandbags.
Hurricane and tornado preparation
If there's time before the storm hits, store patio furniture, equipment, and toys in their predetermined location.
Wildfire preparation
Shut all doors, windows, and vents.
If you have a fireplace, open the damper but keep the fireplace screen shut.
Close non-combustible blinds and heavy drapes.
Remove combustible drapery and furniture from areas near windows and doors.
Remove combustible outdoor items, such as patio furniture, and store them in safe areas. They can even be stored in your pool or water feature if they won't be damaged by the water.
Wet down the roof of your home and vegetation on your property.
Things to do before evacuating
If you have to evacuate and you are sure you have time, take a moment to secure your home:
Unplug appliances.
Turn off all utilities.
Securely close and lock all doors, windows, and the garage.
---
More Emergency Preparedness Resources