Believe it or not, your home is full of hidden treasures just waiting to be unearthed.
Packing up your home before a move presents you with the perfect opportunity to clear out all that junk that's been clogging your closets and cupboards - and make a little extra cash at the same time. You never know - that old novelty lamp may seem like trash to you, but it may be just what your neighbor down the street has been looking for.
Hosting a garage sale is one of the most popular ways to declutter your home before a move. But without a little preparation, it's easy for a garage sale to fall flat, and the last thing you want is to sit outside all day hoping to unload your "hidden treasures" only to drag it all back inside a few hours later with a couple of measly bucks in your pocket.
Turn a large and cumbersome move into an efficient operation with our expert advice for planning, pricing, promoting, and hosting a successful garage sale.
Planning
The key to hosting a successful garage sale is in the planning. Keep these tips in mind when planning your garage sale:
1. Timing is everything.
The first thing you need to do when planning a garage sale is to pick a date and time.
Time of day: Start your garage sale early. People are less likely to have scheduling conflicts, and it'll be cooler too, especially in the summer. 8:00 AM is a standard start time, but some people get going as early as 6:00.
Day of week: Saturdays are the most common choice, but if you have a lot to sell, you could opt for a multi-day sale that includes Friday or Sunday, or even Thursday if you're feeling particularly ambitious.
Season: June and early summer are garage sale season, primarily because summer is peak moving season, but also because the temperature is cooler. Late fall is also a balmy alternative, but if you want to attract the diehard or end-of-season garage salers, July and August are good choices as well. Whatever you do, don't host your sale on a holiday weekend, and if you can, try to schedule your sale early in the month, right after pay day.
2. Location, location location.
Your garage sale could be stocked with only the best high-quality finds, but if you live on a quiet residential street or in a rural area, it'll be hard to generate foot traffic. Instead, see if a friend or family member in a busier part of town will let you use their yard or driveway for your sale.
3. Permits
Some cities require you to obtain a special permit to run a garage sale. Check with your city hall a few weeks before you plan to have your sale to get the necessary permits.
4. Advertise!
The more you advertise your sale, the more people will stop by, and the more you'll sell. Here are some of the most common and effective methods for advertising your sale:
Street signs: Make and post street signs on nearby streets and intersections using brightly colored posterboard and dark text that's large enough for passing cars to read. Try to put up signs the night before your sale if possible, and make sure to take them down when your sale ends. And of course, always spell check - you'll have trouble getting people to stop by your "yard sard" no matter how many posters you put up.
Online listings: Websites like Craiglist let you advertise garage sales for free. Tell people what you'll have for sale, and if possible, include photos of your big ticket items. Try to post the listing a few days before your sale.
Classified ads: Newspaper ads can be expensive, but they might be worth the effort for multi-home or neighbourhood sales. List big ticket items, such as furniture or kids toys first.
Social media: Check Facebook for market listings, community associations, and other places to advertise your sale.
Gathering and Organizing Stuff to Sell
This is where the actual de-cluttering comes in. Combing through your home and gathering items to sell doesn't have to be daunting with these tips:
5. Accumulate early
The earlier you start collecting for-sale items, the better. Not only will you end up with more stuff to sell, but you'll also have time to decide whether you really need that pasta maker your great aunt got you for your wedding 20 years ago.
PRO TIP: If you can't decide right away whether to keep something or toss it, try putting your stuff through multiple rounds of decision making. You might think you need that pasta maker today, but you may feel entirely different tomorrow. Once it goes into your "sell" pile, leave it there.
Go through your home room-by-room and sort your stuff into three piles: donate, sell, and keep. Once you finish a room, go through the sell pile and assign a price to each item - pricing items as you accumulate them will save you time closer to your sale date.
6. You never know what people will buy.
If you're looking at that old phone charger or vintage black velvet painting thinking "who in their right mind would buy this?!", put it out anyway. You never know what someone might be looking for.
7. Sort and prepare for-sale items ahead of time.
Dividing your sale items into categories, such as clothes, books, or toys, and preparing your tables and displays before your garage sale helps keep everything organized on sale day.
8. Clean all sale items.
No one wants to sift through dirty clothes or sticky toys. Making sure things like sports balls are full of air or that electronics contain functioning batteries can go a long way to increasing your profits.
Pricing
Pricing is one of the most difficult aspects of planning a garage sale - price too high and you risk turning off prospective buyers, but if you price too low you may actually lose money on your sale. Keep these tips in mind when pricing items for your sale:
Price items individually, rather than packaging items up into lots or grouping them into boxes with a generic price tag. Items will get shifted, and pricing individually will help you stay organized as the day goes on. There are some exceptions to this rule, such as books, which are often hard to sell.
Don't price high assuming people will haggle. Some people like haggling, but many don't and they'll simply walk away if they think the price point is too high.
Don't lower the price for the first prospective buyer just because you're afraid no one else will be interested. You never know who will want your stuff, and that third or fourth prospective buyer might be willing to pay top dollar.
Price items before your sale - don't wait for people to ask.
Price items in $0.25 increments - you'll only need to deal in quarters when making change.
Research what might be valuable. Search for high-ticket items on Craigslist before your sale so you can get a rough idea of what might be a fair price for that item.
Mark items you're unwilling to haggle on as "firm".
Sale Day
Garage sale day is always hectic, no matter how meticulously you've planned your sale. Make sure it goes smoothly with our advice:
16. Supplies
At a minimum, you'll need these items on-hand on sale day:
Chairs to sit in - you don't want to have to stand all day!
Tables - you'll need tables to display your goods, but it helps to have a designated cash table as well so shoppers know where to go to ask questions or buy items.
Change - make sure you have singles, small change, and other small bills. Don't rely on early morning shoppers to supply the change.
Plastic bags - Having bags available for guests to carry their items is a nice touch. Newspaper may also be useful if you're selling fragile or breakable items.
Extension cord - If you're selling electronics, keep an extension cord nearby so prospective buyers can test your devices.
17. Attitude
Don't be pushy! You may be desperate to unload those 30 VHS tapes, but don't pounce on the first person who looks interested. You'll likely have more success if you sit back, say hello, and let people come to you with questions.
18. Appearance matters.
No one expects a fancy garage sale, but a swept driveway and a freshly mown lawn will create a good first impression and help draw people into your sale. At the very least, make sure any pet droppings are picked up.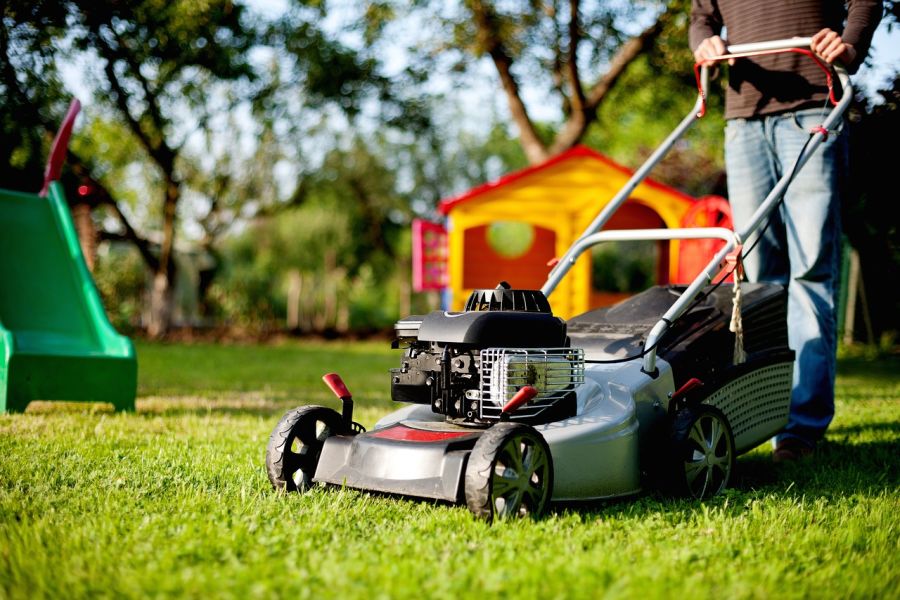 19. Pets
Keep your pets indoors or on a leash. Dogs may not be accustomed to all the strange people milling around, and pets have a habit of running out into the street when you aren't looking. Some people are also not pet people, and they may be deterred by free-roaming fur babies.
20. Showcase big-ticket items.
Display big-ticket items like furniture at the end of your driveway to lure people in. Make sure any items you don't want to sell are put away - people tend to think that anything at a garage sale is for sale, including the tables and tablecloths.
21. Drinks
Keep your parched customers cool on hot days with a full pitcher of water and paper cups. If you have children, get them involved by having them sell cold drinks, or even cookies and baked goods.
22. Books
Books are notoriously difficult to sell. Try selling them for a set price per box, or let shoppers fill a bag for $1 or $2.
23. Set yourself apart.
Find a way to set your garage sale apart from the rest. Multi-family sales are always more popular, but offering free drinks or furniture delivery, as well as accepting credit or debit payment can make your sale shine.
24. Early birds
If you don't want early birds to show up before your sale starts, consider mentioning that "early birds pay double" on your signs or in your online listings. You could also opt to omit your address in any ads, and instead use a generic description like "in the 200-block of Third Street".
25. Layaway
If someone wants to buy an item but come back later to pick it up, don't hold items for free - that prospective buyer may never come back, and someone else might actually want to buy. Always get cash up front.
26. Leftovers
Whatever you do, don't bring items that didn't sell back into your house. Load them straight into your car and take them to your local Goodwill, church, or charity shop.
Ready, set, sell
If you're getting ready to move, a well-planned garage sale can help you unload some of that unwanted junk, and put a little cash back into your pocket.