So you want to make a brand new start of it in old New York City. Whether you're moving for a new job or you just can't resist the pull of the City of Dreams and you're looking for advice on how to move to New York with no money, relocating to NYC is always a big deal, and it's rarely a simple process.
Moving to New York City isn't as straightforward as moving to other cities in the United States. Finding a place to live is more difficult, the cost of living is higher, and your moving day will pose its own unique set of logistical challenges. Our short guide on how to move to New York can help you navigate the process, from landing your perfect apartment to moving in.
Finding a place to live
The biggest challenge you'll face when moving to NYC is finding a place to live. The city is as diverse as it is massive, and if you aren't already familiar with the various neighborhoods, it's a good idea to start your New York house hunt by getting to know each of the city's five boroughs:
1. Manhattan
The smallest, but most expensive borough. Home to NYC's most famous sites, including Times Square, Broadway, Central Park, Chinatown, the Empire State Building, and more.
2. The Bronx
Typically offers the cheapest housing, and is less accessible via public transit. Home to the Bronx Zoo and Bronx Museum of the Arts.
3. Brooklyn
The largest borough by population. Home to Coney Island, as well as a wide variety of markets, parks, restaurants, and more.
4. Queens
The largest borough by area, and easily accessible by public transit. Known for its selection of food, music, and art.
5. Staten Island
Accessible by ferry, Staten Island offers a more suburban alternative to the bustle of the city. Offers incredible panoramic views of the city skyline, and a close up of the Statue of Liberty.
Each neighborhood has its own unique set of characteristics, and some quick online research should help you narrow your options down to one or two boroughs. Local blogs can also give you an idea of what goes on in a particular area, but there's a lot you can't learn by simply reading online. If you've never been to the city or you've only visited once or twice, your best bet might be to take a trip and do some on-the-ground research. If a visit isn't possible, you could also consider finding a short term rental to give yourself some time to investigate the various locales before you find your permanent home.
Once you know where to focus your search, you can get down to business. When you're apartment hunting, ask yourself these questions: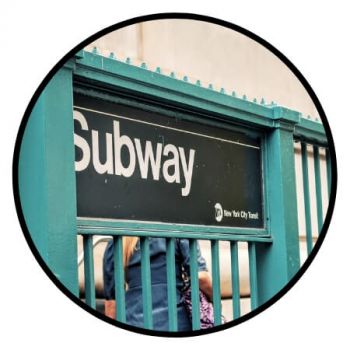 How convenient is the subway? The subway is king when it comes to getting around NYC. How close is the nearest subway station? Are there service interruptions on the weekend? Are there alternative transportation options available?
If you have kids, are there schools and/or parks nearby? Forest Hill in Queens, Brooklyn Heights in Brooklyn, parts of Staten Island, and Riverdale in the Bronx are popular choices for families because they have more green space than other neighborhoods.
What are your options for food? Are there supermarkets or bodegas nearby? If you prefer to eat out, is there a good selection of restaurants to choose from?
What is the nightlife like? Every borough has its own party hotspots—in Manhattan, this includes the East Village, Murray Hill, and the Lower East Side. In Brooklyn and Queens, Williamsburg, Bushwick, Greenpoint, and Ridgewood are known for their active nightlife.
How safe is the neighborhood? Check the NYPD website for crime statistics, and if you can, ask people who live in the neighborhood. You may also want to check it out for yourself as well, both during the day and at night.
What is parking like? Wherever you choose to live, parking is likely to be a challenge. You probably won't need your vehicle at all, but if you can't part with yours, be sure to look into parking regulations, and factor things like monthly garage fees (if applicable) into your monthly budget.
If you have pets, are there dog parks nearby? Does your chosen building allow pets, especially large dogs?
PRO TIP: Once you've narrowed down your choices, check Address Report for information about commute times, nearby parks, noise complaints, and more.
Start saving
If you're thinking about moving to NYC, it should come as no surprise that the cost of living is significantly higher than most other cities across the country. Everything, including rent, groceries, and entertainment, will cost more, and the costs associated with finding an apartment are higher than you might encounter in other cities.
Most rental units require you to prove that you have an income that is 40-50x higher than the monthly rent, and will require a guarantor's signature if you don't. And whether you're renting or buying, you'll also have to pay broker fees.
For buyers, broker fees (usually about 5-6%) are paid by the seller, but they are often reflected in the price paid by the buyer. The fee is then split between the buyer and seller's brokers.
For renters, broker fees are usually about 15% of your annual rent, but can sometimes be negotiated down depending on the individual circumstances of the move.
Broker fees apply in addition to standard costs such as first month's rent and security deposits.
AVOID BROKER FEES: Moving in with a roommate can help you avoid broker fees, and splitting expenses may make it easier to stick to your new budget.
Be ready to purge
Chances are, your new place in NYC will be smaller than your current one, and you'll have to downsize. When you're touring your new place, take note of how much space you have so you can sell, donate, or toss anything you won't need. You should also measure how wide your hallways and doors are to confirm that the furniture you do plan to bring will fit.
Compare your moving options
When you're planning a move, one of the biggest questions is whether to hire movers or rent a truck and move yourself.
Moving yourself
Renting a truck and moving yourself may be cheaper than hiring movers. Before you commit to this option, make sure:
You are physically able to load and unload your belongings, especially if you have a 5th floor walk-up.
You enlist some trusted friends to help you with your move.
You are comfortable driving long distances and in New York City, especially in a large, heavy vehicle.
You are familiar with the parking regulations near your new home.
Moving yourself may be ideal for local moves, or smaller moves with only a few boxes or pieces of furniture. If you're moving long distance or have lots of stuff, hiring movers might be your best choice.
If you do decide to move yourself, always leave someone on truck-watch. Police will ticket you for being double parked.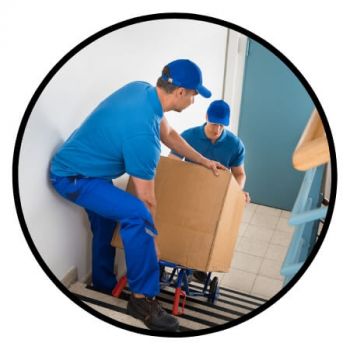 Hiring movers
Professional movers may cost more, but this option comes with a few significant advantages:
Professional movers have experience moving in a big city, which will be especially helpful if you're new to NYC.
You don't have to worry about loading or unloading your belongings.
Your movers will be responsible for highway driving, navigating the city streets, and parking the truck.
If you're moving long distance, you won't have to return the truck or pay additional fees for a one way moving truck rental—sometimes, truck rental agencies will charge you extra to leave your vehicle in a different city than where you picked it up.
PRO TIP: If you are hiring movers or are moving long distance, familiarize yourself with public transit around your new home. It's unlikely you'll be able to hitch a ride with your moving service. If you're shipping your stuff from out of state, you definitely won't be able to ride with your belongings.
Not sure the best way to get to NYC? Apartment List's cross-country moving guide can help you decide how to get to your new home. 
Movers are often ideal for larger moves, such as a small (but full) apartment or a house. If you're moving in with roommates and only have a few pieces of furniture and some boxes, and you're comfortable driving in the city and are physically capable of loading and unloading your stuff, you might be better off moving yourself.
MIDDLE GROUND: If you don't have a ton of stuff but don't want to worry about moving your heavier, bulkier belongings, you can ship these items separately using an LTL shipping service like TSI and take care of your boxes and lighter things yourself.
If you do opt to hire movers, make sure you tell your moving company about stairs, narrow or long hallways, and other factors that may complicate the moving process, so you aren't surprised with last minute charges.
4 Expert Tips for Moving to New York City
We asked our moving experts for their best tips on moving to New York City. Here's what they suggest:
Reserve your elevator. Speak to your current and your new landlord well in advance of your planned moving date so they can make sure an elevator is available to you.
Some buildings have specified time frames where you're permitted to move in or out. Check with your building manager before your moving date so you can schedule your move accordingly.
Ask for a Certificate of Insurance (COI) from your movers to prove that they have General Liability and Workers Comp insurance. Your building will have to provide a sample certificate that lists their company name and explicitly states that they are "additionally insured". Your moving company will fill out the rest of the certificate and then return it your building manager. Buildings typically require a minimum of $1 million general liability coverage, which precludes a lot of smaller local moving companies.
Account for a shuttle cost in your moving budget. Typically, moving companies will leave their trucks parked in New Jersey, then rent a smaller truck to carry loads in and out to help navigate the streets and parking.
TSI TIP: If you're moving to New York City from out of state, we can help take the stress out of your move, no matter how large or small your move is. For extra convenience, your out-of-state movers can deliver your belongings to one of our local partners, and our experts in New York City moving will deliver them to your new place on the time and date that works best for you.
Conclusion
Relocating to New York City is a big move. From finding a place to getting your stuff to your new home, there are a lot of factors to consider:
What neighborhood do you want to live in?
How will you pay for your move?
Will you hire movers or rent a truck and move yourself?
TSI can help make your move as simple as possible.