If you're a tech junkie or staying on top of your filing is a struggle, you may be dreading boxing up your home office. Home offices often contain a lot of important documents and pieces of equipment, so some extra care needs to be taken at every stage when packing up this room. It might seem daunting, but it will be much simpler if you embrace the process and start early, even if it's just a little at a time.
Decluttering
If you don't regularly sort and file papers, now's the time. Make a pile of any papers you no longer need and shred them before disposing of them. If you'd like to cut down on the amount of files you have to move, you should consider doing away with paper copies entirely by getting a scanner and digitizing your documents.
PRO TIP: Not all municipalities will accept shredded paper for recycling, so check with your local recycling center before adding it to your blue box.
Old and outdated electronics that are no longer useful should be digitally wiped before selling, donating, or recycling them. Electronics should be properly disposed of at your local recycling center.This is also the ideal time to sort out books and magazines you are never going to read (or read again), anything with outdated information, and anything you no longer need or don't actually like, such as extra charging cords or broken cables.
Stock Up on Supplies
With your home office decluttered, it's time to pick up packing supplies and set up your packing station. You will need:
Boxes - including book and banker or file boxes. You may want to consider packing your books and files in plastic bins to ensure they don't sustain any water damage during transport.
Bubble wrap
Packing paper
Masking and packing tape
Markers and pens
Notepad or writing paper
Get Packing
After setting up your packing station, you'll need to come up with a plan for packing up your home office.
PRO TIP: Remember to set aside anything you will need leading up to the move and on moving day. Download our printable moving day kit packing list: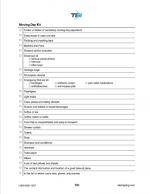 It's usually best to start with files, papers, and books, since they will typically take the most time to pack. Then you can turn your attention to computers and electronics, and anything else you keep in your home office. Leave office furniture until the end—it'll be easier to pack once everything else has been taken care of, and an empty desk can be a useful workstation for packing your other belongings.
Here are some tips for packing up these areas:

Files & Paperwork
Now that you've condensed your files and papers, it's time to prepare them for transport. Here's how to pack files for moving:
Sort them into relevant categories and pack them together
If you use hanging files, use boxes or bins with built-in inserts for hanging files
If you use non-hanging files, pack them vertically so the papers don't slide around and get disorganized
Fill the box to limit movement
Label the box with what document categories are inside.
PRO TIP: Always keep important documents, such as moving paperwork, your new lease, or insurance documents, with you in your personal vehicle on moving day.
How to Pack Books
While placing books in a box may seem like a fairly straightforward endeavor, there is a little more to it than that if you want them to travel safely. Here's how to pack books:
Lay them flat or with their spine toward the bottom of the box
Pack them in small boxes or book boxes—their weight quickly adds up
Group books together by similar height and width dimensions, so there isn't a lot of unnecessary space to fill
For expensive or old books, wrap them carefully in bubble wrap or foam sheets and secure it with tape before placing them in a box
Fill empty spaces with packing materials so the books don't shift during transit

Computers & Other Electronics
Computers and other electronics are fragile and expensive items that need to be protected during a move. There's no worse feeling than losing important work, documents, photographs, and programs on top of having to spend money to buy a new computer. Taking the time to pack things properly is the easiest way to avoid this type of heartache and stress:
Backup your computer files onto your preferred storage method, such as an external hard drive, thumb (USB) drives, or cloud storage.
Disconnect and label all cables and components.
Remove ink cartridges from printers, put masking tape over their contact points, and store them in plastic bags to keep the ink from getting on your belongings.
If you still have the original box and packing materials that it came with, use those to safely pack your computer and other electronic equipment. Alternately, you can pick up a computer packing kit at most moving supply stores. Otherwise:
Carefully wrap the item with bubble wrap to prevent damage.
Place the wrapped tower, scanner, printer, or screen upright in the box.
Fill any empty space with packing paper.
Put any cables or components inside the box with the items they belong to.
Label the box with the room it belongs in, what it contains, which direction should be up, and mark it as "FRAGILE".
Office Furniture & Decorations
Take apart any furniture that can be disassembled before moving day, taking care to keep all of the pieces together by either placing them in the same box or, if the pieces are too large, taping them together or labelling them. Put small pieces in labelled bags and attach them to a large piece of the furniture. To make them lighter and easier to carry, remove drawers from filing cabinets. As for the other items that might be in your office:
Framed diplomas, certificates, photographs, or pieces of artwork should be carefully packaged in bubble wrap and have the edges and corners protected with cardboard. Tape an X across the glass to keep fragments together in the event of damage, and remember to label the box as "FRAGILE".
Awards and other cherished belongings should be wrapped in bubble wrap or packing paper to prevent scratches and chips, and placed in a box with cushioning material.