Moving can be a stressful time for anyone, but it can weigh especially heavy on children who typically have less control over the situation. Depending on their age, the amount of effort you need to allocate to packing their room will vary; you may need to pack their boxes for them entirely, you may only need to offer occasional assistance or supervise and check-in, or you may simply provide them with a deadline and the materials they need.
If they are younger, helping them pack their room is a great opportunity for you to discuss the moving process with them, answer their questions, and quell any fears they might have.
Regardless of their age, here's how you can help them pack up their room:
Decluttering
Decluttering is an important step in any packing process because it helps you get rid of unnecessary items and cuts down on the amount of stuff you have to move. It's also the perfect time to get rid of non-sentimental baby gear and clothing—toss anything that no longer fits (unless it's important or sentimental, like a christening gown), or that won't be used for hand-me-downs.
Keep in mind that decluttering can be a much more emotional experience for children, especially during a tumultuous time of change like moving. Don't throw away things they aren't ready to get rid of; instead, take some time to go through their belongings with them. Things you may not expect might hold meaning for them as adults. If they aren't ready to part with something but aren't using it, set it aside in a box for storage and let them revisit these items when they are older.
Gathering Packing Materials
After decluttering, you should have a good idea of how many boxes and other packing materials you will need. Before you start packing, gather up the following:
Boxes, possibly including wardrobe boxes (depending on the age and size of your child) and a mattress box
Tubes for any unframed posters and prints
Packing materials, such as bubble wrap and packing paper
Pens and markers
A notepad or writing paper
Packing and masking tape
Plastic bags (if there are crafting materials or other liquids that need to be packed)
Stickers and other fun materials for children to decorate their boxes with
Packing
Throughout the packing process, set aside any clothing or other items that are necessary for an essentials bag. Then you can start packing the items your kids use the least and save items they will need leading up to the move until the week of.
Furniture - regardless of their age, most kids will need help or supervision disassembling their furniture. Unscrew and remove any parts that can be removed. Place screws and small pieces into a labeled bag and tape it to a larger piece of the furniture.
Bed - unless you are spending your move in a hotel or at the home of friends or family, save packing your kids' beds till the day of your move. You can pack all bedding that won't be needed before the move ahead of time, then on the day of your move, you can strip the bed, remove the mattress, and disassemble the frame. Wrap the mattress in a plastic sheet and place it in a mattress box to protect it during transport.
Toys - their odd shapes can make toys difficult to pack, but thanks to the durable and light nature of most children's toys, it's usually easy to toss them all in a box. For hard, plastic toys or ones with breakable parts, it's a good idea to wrap them in paper or other packing material and pad them with soft toys like stuffed animals.
For older children and teens, there may be some breakable items that need careful packaging. Wrap all glass and ceramic pieces and keepsakes in bubble wrap and mark the box(es) as "FRAGILE".
Remove all posters, prints, and artwork from the walls. Unframed pieces can be re-rolled and placed inside packing tubes. Framed pieces should be carefully wrapped and packed into an appropriate-sized box.
Clothing - Depending on the age of your children, wardrobe boxes may be unnecessary. If they are under the age of 8-10, folding and packing their clothes might make the most sense and save on box space. Otherwise, hanging clothes in a wardrobe box is a quick, simple way to pack up clothing.
As you pack, write down everything that's going into the box. Label each box and include an inventory of its contents.
To make the process more fun, let your kids decorate their boxes with things like markers or stickers—materials that won't affect box integrity or make them difficult to carry.
PRO TIP: For older kids who will be doing all or most of the packing on their own, create a schedule for them to work with and assign them specific weekly tasks. Check-in with them regularly to make sure they are getting their tasks completed on time and that they have the emotional support they need to handle the move. Because this is something that has to get done, no matter what, you may need to step in at certain points in the process and take over certain tasks.
For extra incentives, reward them with special treats for getting their tasks done early or on time.
Make sure you and your kids have everything you need on moving day. Download our free printable moving day checklist for kids: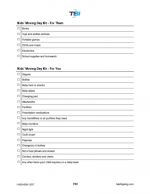 Download checklist (PDF)