TSI is happy to provide you with information related to shipping and moving. If and when you'd like more details for shipping your boxes, you can request a quote or call us at 1-800-626-1257. We've been leading the way in small moves and specialty shipments nationally for more than 30 years and are A+ rated by the Better Business Bureau.
In addition to offering refuge from the chaos and clutter of a move, our bedrooms often have the greatest number of treasured personal items—not to mention our closets and wardrobes. Depending of the size of your home, they may also pull double-duty by acting as an office, craft, or collection display room, and sometimes even the family archive. Packing up these spaces can feel daunting, and it's easy to put them off till the end of your packing process.
So, where do you begin? Let's take a look:
Decluttering
Bedroom moving is a great time to sort through your belongings—especially your wardrobe—and get rid of anything you no longer need, use, or want. Bonus: this will also make the moving and unpacking process at your new place a whole lot easier. Break the room up into zones to make things more simple, and separate your belongings into piles:
Things to keep
Things to donate (or if they're in excellent condition—sell)
Things to discard
Getting rid of clothes can be especially hard for some people. After all, who hasn't thrown out a cute-but-unworn top only to regret it later when the trend comes back into fashion? There are some items that will be easy to toss, but if you're not sure, try it on and see how it makes you feel. Part with anything that:
You haven't worn in a long time and isn't an item you save for special occasions.
Is showing undesirable signs of wear, such as stains or fraying.
Is irreparably damaged, or damaged and not worth repairing.
You have a lot of multiples of—do you really need 15 plain black t-shirts?
No longer fits with your style, especially if it can be easily replaced.
No longer fits, period.
PRO TIP: Take this opportunity to get rid of any broken or unused clothing hangers as well. Their size and shape can make them difficult to box up, especially if you don't have a uniform collection of them, so the fewer you have, the better.
Packing Supplies
Now that you've sorted and decluttered your stuff, you'll have a better idea of how much you'll need in terms of supplies. To safely pack your bedroom belongings, gather the following:
An assortment of boxes in a variety of sizes, including wardrobe boxes
Bubblewrap
Stretch or shrink wrap
Masking and packing tape
Your preferred packing material (like crumpled up newspaper)
Corrugated cardboard
Paper for wrapping
Paper or notepads for writing
Markers and pens
Garbage bags
Cleaning supplies
Tools, such as screwdrivers and allen wrenches for disassembling furniture
Mattress covers and boxes
Furniture blankets
PRO TIP: When packing and moving your belongings, wear comfortable clothing that's easy to move around in, as well as closed-toed shoes with thick soles to protect your feet.
Get Packing
With your supplies on hand, you can start packing things away. Start by packing up any guest bedrooms first. When you get to your room or your kids' bedrooms, pack up your least used items or anything you won't be using until after moving day, and save commonly used items until the end.
As you pack your belongings, make a list of everything that goes into each box, no matter how small it is. Tape the list inside one of the flaps so you can easily see what is in the box without having to dig through it. Make sure you clearly label the outside of the box with the following information:
Room (Bedroom, guest room, kids' room)
Box number (One of Five, or whatever organization system you plan to use)
Box contents (For example: winter clothing, books, etc.)
Destination address
PRO TIP: As you and your family pack, set aside essential items in an easy-to-identify bag that will cover you for the first 24 to 48 hours of your move, including a few days worth of clothing and toiletries.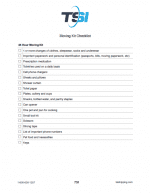 With your packing system and supplies in place, start boxing things up in an order that makes sense to you. Follow these tips:

Wardrobe
Before you pack up your closet, wash any dirty clothes. You'll thank yourself when you don't have to immediately do laundry after moving.
One of the simplest ways to make unpacking easier is to place your clothing in wardrobe boxes. This way, you can leave them on the hanger and simply transfer them to your new closet when you're unpacking your stuff. Packing segments of your hanging clothes into garbage bags is a good low-cost alternative if you're moving locally or are moving yourself.
Leave clothing you keep in drawers and remove the drawer from your dresser, then secure them with shrink wrap or tape. Or, fold/roll the items up and keep them sorted by which drawer they go in for a smoother unpacking process.
Items such as t-shirts can also be used as padding to protect non-fragile items. Just make note of which box you are using them in so you don't lose track of them.
Accessories
Plan on moving expensive jewelry in your own car to reduce the risk of it getting accidentally misplaced, stolen, or lost. Wrap your most valuable pieces in bubble wrap or the pouches they came in and keep them inside of a jewelry box or other box with compartments, such as craft storage containers.
Leave hats and shoes inside of the boxes they came in. If you no longer have the original boxes, wrap shoes in paper and tape them together or place them in a bag. For hats, stuff the crown with tissue paper to ensure it does not get crushed during the move, then surround it with packing material. Don't pack either hats or shoes at the bottom of a box, where they can easily be crushed and may become permanently creased.
Tchotchkes & Treasured Items
Carefully wrap anything fragile in bubble wrap or tissue paper and tape it in place before placing the item in a small box and filling in any empty areas with your chosen packing material. If you have especially delicate items, wrap them in bubble wrap or tissue paper and place them in their own small, individual boxes before putting them inside a larger box. Mark the box as "FRAGILE" on the top and at least two sides.
Remove any adhesive materials or tacks from posters and unframed prints, roll them up, and insert them into cylindrical tubes to keep them protected during transit.
Photo frames and mirrors should have a sheet of corrugated paper or small bubble wrap placed over the glass to prevent scratching, along with cardboard or styrofoam corners protectors. Place them so they are stacked vertically on their edges inside a box to prevent the glass from cracking. Fill any extra space with packing material so the frames don't shift during transit, and mark the box as "FRAGILE" on the top and at least two sides.
Books should be placed in special book boxes or smaller sized boxes to limit the amount of weight that can be added and to prevent lifting injuries. Fill in any empty space in the box with packing material to prevent the books from shifting while they're being moved, which can damage the books and inadvertently cause injuries. Book boxes that shift or fall during transit can also cause significant damage to your other belongings.

Furniture
Disassemble anything that can be taken apart. Place screws, nuts, and bolts into a bag, label it, and securely attach it to part of the furniture they come from.
Carefully cover furniture surfaces with paper, shrink wrap, or bubble wrap to protect it from scratches and nicks. For larger pieces, use moving blankets.
Wrap furniture legs with bubble wrap or leg protectors, and if possible, attach them to the chair, desk, or table they belong to.
Vacuum any rugs, roll them up, and secure them with ropes or tape. For extra protection, cover them with stretch- or shrink-wrap, or an old sheet.
For lamps, remove the shade and light bulb. You can also remove the harp (the wire that surrounds and protects the light bulb and lamp shade). Wrap the base of the lamp in bubble wrap and cushion it with packing materials to keep it from shifting in the box. Pack the shade in a separate box, wrapped in paper or bubble wrap, to protect it from getting crushed or torn.
Professional moving companies can handle all the packing and preparation for your furniture shipment.
Bed & Bedding
Pack up all blankets, sheets, and bedding materials you won't need before your move, or that you don't plan on using as packing material for delicate items. To keep your linens from getting dirty during transit, place them in a suitcase or line the box you're placing them in with a large plastic bag.
Remove any sheets, blankets, and pillows still left on your bed. If there's time, wash and dry them before packing.\
Place your mattress into a mattress bag or box to keep it clean and protected.
If possible, disassemble your bed frame and box spring. Place all screws, nuts, and bolts in a plastic bag that is clearly labelled and attach the bag to a large, recognizable piece of the bed frame.